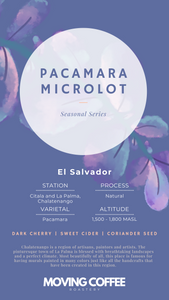 Pacamara Natural Microlot
Regular price $0.00 $25.00 Sale
Pacamara Natural Microlot
Seasonal Series
Hello Pacamara
At long last, we've welcomed back a Pacamara. Last time we've had a Pacamara varietal coffee was nearly three to four years ago.
Continuing our support for quality coffee coming from El Mural, we've selected a varietal specific microlot coffee, a Pacamara from producer Johnny Javier.
Johnny decided to put the coffee through a natural sun-dried process, where he believes the sweetness of the pacamara is optimized and balanced out with the ripe cherry acidity.  
As the owner of Finca San Antonio, since his teenage years, Johnny has been around coffee, working first as a coffee picker on neighbouring farms and on his father's farm during the peak of the harvest. For over 10 years he has been running his own farm.

All his knowledge about coffee has been acquired by doing and from his father who has been his mentor and who motivated him to acquire his own land. After buying his farm, he set off producing a high-quality product. Over the years, he has faced many ups and downs, he has had to find a new way to work, to implement better harvesting practices, and to invest in raised beds. He even had to learn how to process honey coffees - he recalls in the process of experimenting; many batches were ruined because it took so many trials and lost coffee to master this process.

In addition to loving coffee, Johny spends his spare time and off-season months working in construction. Johny's motivation to continue producing specialty coffee is really based on preserving the family legacy, acquiring new knowledge and experience, and being known for producing top-notch El Salvadorian coffees
About Coffee

Chalatenango is a region of artisans, paintors and artists. The pinturesque town of La Palma is blessed with breathtaking landscapes and a perfect climate. Most beautifully of all, this place is famous for having murals painted in many colors just like all the handcrafts that have been created in this region. The artistans in La Palma create crafts and paint them in bright colors that form part of the decoration of this beautiful small town. They work with lots of different fabrics worn by the people of this special place.

El Mural is a blend of coffees from two main cantons: Citalá and La Palma, both of these are part of the Montecristo Trifinio, a tri-border national park shared between El Salvador, Guatemala and Honduras. Designated as a biosphere reserve in 2011, it is an area of incredibly rich bio-diversity.




Dark Cherry | Sweet Cider | Coriander Seed 



DEPARTMENT
Chalatenango
MUNICIPALITY
La Palma
PRODUCER

Johnny Javier Lemus Valle
HARVEST
December - February
ALTITUDE
1,500 – 1,800 MASL.
VARIETIES
PACAMARA
FERMENTATION
18 Hours
DRYING METHOD
Patio dry over raised beds over 11 days 
El Salvador
Chalatenango 
El Mural
Johnny Jaiver Lemus Valle
Pacamara | 1500-1800 MASL | Natural
Dark Cherry | Sweet Cider | Coriander Seed 
Best to consume in 4 - 6 weeks