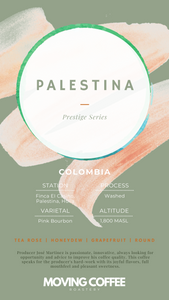 Palestina Pink Bourbon
Regular price $0.00 $29.00 Sale
Palestina Pink Bourbon
Prestige Series
Hello Colombia
To say that Pink Bourbon has been one of our latest favourite varietal perhaps is an under statement. 
Long ago, when we were first introduced to various bourbon varietal, we knew there's something special. Bourbon varietal has always been one of the top quality varietal in the Arabica branch. 
Like yellow and orange bourbon, pink bourbon requires optimal environment and terroir due to its susceptible nature. Thus, production on this has always been limited. 
In this cup, we experience a sensational outburst of sweet and floral aromatics. Look for brown sugar and cinnamon, and yet also wait for the juice-like sweetness of honeydew. Premium quality tea-rose shall remind us the long lasting bergamot after-taste, exhibiting gesha-like quality. 
Confidently suggesting, Palestina Pink Bourbon by Jose Guzman has to be one of our best Prestige Series offerings.       
About Coffee
FINCA EL CASINO STORY
Jose Martinez was born and raised on a coffee farm in a traditionally coffee growing family. From his parents, he learned everything about coffee, from taking care of the coffee trees, to good post-harvesting practices. When he was just 16 years old, he decided to leave home and ended up working as a bus driver, where for more than a decade, he was able to travel throughout the entire country, from north to south, from east to west, getting to know all the roads in Colombia. One day, he decided to come back to his house looking for a more stable life. He bought his father's old farm to start paving a new path, following in his father's steps.
José Martinez has become a farmer like no other. He is passionate, innovative, and always looking for opportunities and advice to become better and to improve his quality. He keeps his trees healthy and very well pruned, he measures his fermentation process to determine the correct endpoint for each fermentation and has achieved the perfect balance of flavours. In 2014, José Martinez had a very small 4x8 drying infrastructure, and with the passing of years, and the extra incomes that he has received, he has been able to enlarge his drying patios and improve the infrastructure. Jose's life has completely transformed since he started producing specialty coffee. The extra incomes that he receives has changed his mind set and his perspective on coffee. He now takes better care of every single step of the process.
PRODUCERS
Jose Guzman & Francy Helena Inga
MUNICIPALITY
Palestina
HARVEST
Second semester: October - November
ALTITUDE
1,800 metres above sea level
VARIETIES
Pink Bourbon

PROCESSING METHOD
Harvest only ripe cherries, cherry rest for 18 hours
Fully Washed
FERMENTATION
48 hours
DRYING METHOD
Fully dried on covered parabolic patios for 25 days
PREPARATION
Excelso EP Screen 15+ SCA Specialty Grade.
Biscuity Cedar Cinnamon Citrus Fruit Dried Dates Hazelnut
Brown Sugar Caramel Citrus Fruit Floral Grapefruit Sweet
PALESTINA PINK BOURBON ML
Colombia
Huila
Finca El Casino
Jose Elcias Martinez Guzman
Pink Bourbon | Wash | Microlot 
Tea Rose | Honeydew | Grapefruit | Round
226g (half lb), 452g (1 lb) & 904g (2 lbs) available
Best to consume in 4-6 weeks
Extraction Recommendation
Brew ratio 1:16